Cagayan de Oro City ,
- P h i l i p p i n e s -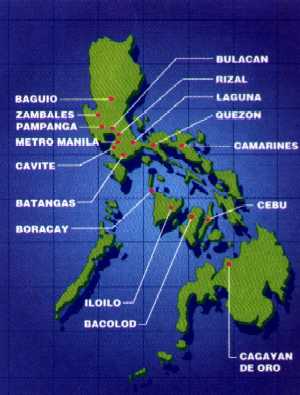 Known as the City of Golden Friendship, Cagayan de Oro is ever ready to be the host city of the JCP National Convention. With the warmth of its people, the city welcomes every one with smiles and open arms. It beckons the warm heart and adventurous soul of everyone – natives and visitors alike. Set amidst natural wonders, here is a place where you can experience the taste of the remarkable 'pineapple city', serving you a stirring blend of cosmopolitan culture and art and naïve simplicity and hospitality.
Cagayan de Oro City is located in the Northern shores of Mindanao - the Philippines' exotic southern island. It is a 488.86-square kilometer valley nestled between verdant hills rolling to Macajalar Bay. It is the regional growth center of Region 10; the business, trade and service center of Northern Mindanao and home to more than half-a-million people.
With its strategic location, Cagayan de Oro City is a major gateway and entry point to Mindanao. It is highly urbanized, with hotels, restaurants, shopping centers, nightspots and other tourist facilities that can rival the best that other metro cities have to offer.



ACCOMMODATIONS
Cagayan de Oro City can accommodate its visitors from the many choices of deluxe hotels to budget backpacker inns.
Today, more than ever, the city is ready for any big national gathering like conventions and seminars. It has quite a number of hotels, pension houses, inns, restaurants and nightspots. Top hotels have large convention halls and well-equipped boardrooms.


| | |
| --- | --- |
| Pryce Plaza Hotel | Lauremar Resort Hotel |
| De Luxe Hotel | Harbor Lights Hotel |
| VIP Hotel | Dynasty Court Hotel |
| Philtown Hotel | Hotel Grand Cagayan |
| New Waldorf Hotel | Vacation Hotel |
| Southwinds Hotel | West Side Hotel |
| Hotel Conchita | Good News Travellers Inn |
| Bulakeña by the Bay | Nature's Pension |
| Estrella Townhouse | Lamar Inn |
| Casa Crystalla | Casa Hidalgo |
| Raci Pensionne | The Renaissance |
| Bonair Inn | City Plaza Tourist Inn |
| Casa Ophelia | Hotel Ramon |
| Malasag Eco-Village | Alibuag Dive Resort |
| Chali Beach Resort | Satellite Inn |
SHOPPING
In Cagayan de Oro, one can shop anytime, anywhere from 8:00 in the morning to 9:00 in the evening. These days, there are new shopping centers offering a wider range of products with more competitive prices. Indigenous products of the region can be found in gift shops and markets.
| | |
| --- | --- |
| Lim Ket Kai Mall | Gaisano City |
| Ororama Mega Center | Gaisano Superstore |
| Ororama Superstore | Oro Tribal Crafts |
| Divisoria Commercial Center | Golez Commercial Center |
SPORTS AND RECREATION
Cagayan de Oro is Northern Mindanao's sport and recreation mecca. In the heart of the city is the Don Gregorio Pelaez Sports Complex, which covers an area of (9) nine hectares with complete sports facilities.
Aside from this, there is the famous Del Monte Golf Course and Country Club and the Camp Evangelista Golf Course for enthusiasts to try their putts. Three other world-class championship courses will be operational by 1999. These are:
Pueblo De Oro Golf and Country Club
Xavier Estates Golf Course
Mountain Meadows Golf and Country Club
Nature has endowed the city with beauty. The Malasag Eco-Village is the country's latest wildlife forest reserve. Nestled on the Cugman watershed, it offers a diversity of protected flora and fauna to be enjoyed by the public.
In the middle of the city is Wet Adventure Water Park, the largest state of the art water theme park outside Metro Manila.
TRANSPORTATION
Cagayan de Oro City, which is the main entry point to Northern Mindanao, is eighty (80) minutes away by place from Manila. The domestic airport is arrival point for around 80% of the visitor of the region.Several inter-island vessels make regular calls on the city's port, the largest and most modern in the southern part of the country. Ships sail from Manila, Cebu, Dumaguete, Tagbilaran, Ilo-ilo, Surigao, Camiguin and Ozamis to Cagayan de Oro. Jeepneys and buses provide transport from Cagayan de Oro to almost all cities in Mindanao. Local transport has been made easy by the efficient service of rent-a-car establishments. Taxis, jeepneys and motorelas are also readily available.
By Air:
1. PHILIPPINES AIRLINES - [Manila,Cebu,Davao, Cotabato]
2. GRAND AIR - [Manila]
3. CEBU PACIFIC AIR - [Manila] By Sea:
1. WG & A
2. Negros Navigation
3. Sulpicio Lines
4. Water Jet
5. Trans Asia
BEYOND CAGAYAN DE ORO
Cagayan de Oro City and its environs can keep you busy for weeks but there are also many new experiences within one to three hours drive or thirty minutes flight from the city.
BUKIDNON. The landlocked province of Bukidnon beckons with its gently rolling plateaus. Three rivers: Cagayan, Pulangui and Tagoloan mark the fertile land with deep wide canyons. Inland three mountains: Mt. Kitanglad, Mt. Kalatungan and Mt. Tankulan, provide a densely forested backdrop.
CAMIGUIN. Camiguin lies in the Bohol Sea some 90 kms. north of Cagayan de Oro. Seven volcanoes dominate its hilly terrain. In fact the island has more volcanoes than municipalities which numbers only 5. Camiguin's costline is dotted with black and white sand beaches. Natural springs enrich the vegetation on the island.
THE CORRIDOR POWER
Cagayan de Oro City is also the focal point of the Cagayan de Oro-Iligan Corridor Special Development Project (CIC-SDP). This joined area, which lies along the northern coast of Mindanao Island, teems with unparalled opportunities for agro-industrial business growth. Today, it is home to major enterprises in industry and agriculture. The Corridor is already the premier steel center in the country and a mojor agri-processing and agri-industrial center. The Corridor boasts of distinct advantages and an enviable proximity to resources that assures invenstors of minimum operating cost and low initial investment outlay. It is the newest investment destination, and the next heavy industrial center in Asia.
---